This is a press release about an exciting new way to read bedtime stories to children when you are far apart. As a grandmother whose grandchildren live far away and who doesn't get to be with them and read stories to them very often, I think it's a great idea! What do you think? The publisher of my Animal Sound Mix-up children's book, Guardian Angel Publishing, is one of those with books on the site.
New Website Enables Families to Be There for the Holidays
IRVINE, CA, December 1, 2010 - Webcam bedtime stories is an innovative new technology being added to the list of family-friendly media, this Christmas. ALISON SANSONE is Creator of BE THERE BEDTIME STORIES, a new website that combines e-books and video of a family storyteller.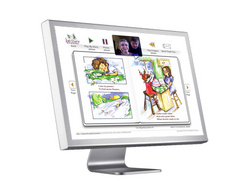 "We believe this broadens the scope of users and the value to families as a fun and new alternative to existing multi-media products on the market,"
Irvine, CA (PRWEB) December 1, 2010
The process takes place entirely on the
BE THERE BEDTIME STORIES
website in three steps: 1) select a children's book from the bookstore, 2) read the story in front of a webcam as it displays on the computer screen, 3) the child receives an email with the link to view the e-book on the website with
video of the storyteller
positioned on each page.
The beta website went live in September of this year with over one hundred published children's books available in the
online bookstore
. There are one hundred more titles in production with the interface, from five different publishers so far, including ten original works to be published by BE THERE BEDTIME STORIES.
The business model for BE THERE BEDTIME STORIES was inspired by her own problem of living far from her only two nieces, who live in Chicago. SANSONE was working in video production at the time, in Orange County, California. "I was unable to be a part of their development - unable to be recognized when I would visit once a year," SANSONE explains her frustration. "Bedtime stories seemed a convenient and entertaining activity that would solve that problem."
SANSONE explains the findings of the initial two months of testing. "The effects exceeded my expectations. When I visited my nieces for the first time after four story recordings, they instantly latched onto me from the moment I walked in the door."
An additional finding from the beta launch is children were excited to read a story back to family members, regardless of their reading level. "We believe this broadens the scope of users and the value to families as a fun and new alternative to existing multi-media products on the market," SANSONE concludes.
SANSONE expects grandparents and military families] to see the value of a recorded bedtime story over live or real-time webcam services as a way to utilize more family members for childhood development, and to preserve those family memories for future generations. The stories are priced at $11.99 for unlimited children and there is currently a Buy One Get One Free holiday special. Live storytelling and Mobile App delivery are options scheduled for subsequent development.
ALSO SEE:
Guardian Angel Publishing
,
Sylvan Dell Publishing
,
Illumination Arts Publishing
and
Lobster Press
are the initial four publishers to license works for sale in the BE THERE BEDTIME STORIES
online bookstore
.
ABOUT:
ALISON SANSONE, Creator and CEO, started her career in the hospitality industry. After a decade of working in diverse leadership roles ranging from national Quality Assurance Manager to Human Resources Director to Investor Relations, Alison decided to pursue a focus in marketing and business development as her true passion. In 2005, she combined her training in videography with her marketing acumen to start her own company, producing web-based media tools for small businesses and non-profit organizations throughout Orange County, California.
The idea for Be There Bedtime Stories came from a personal frustration, during that point in her career. The youngest of 6 children with just 2 grandchildren out of the bunch, she was frustrated living so far from her only 2 nieces, who lived in Chicago. Her experience with video media inspired the business model of connecting families across miles through the simple activity of a bedtime story.
She began building the business plan in early 2007, but the idea ended up on hold for two years, after the unexpected death of her husband that summer. Beginning in October 2009, she decided to commit full attention to the business plan, dedicating her own personal time and resources to the launch of Be There Bedtime Stories, based in Orange County, CA. The Beta site went live in September 2010.